Lucy Fronheiser
My name is Lucy Fronheiser and I'm a VBE with BWI of Central NJ. I have four daughters ages 2 to 8 years old. I started wearing my oldest in a stretchy wrap and soon moved on to the Ergo. I loved having her close, not having to travel with a stroller, and nursing her easily anywhere without having to sit down! With my second daughter I branched out a little and bought a mei tai and another buckle carrier. I started tandem wearing when my second daughter was about two months old. I finally broke into the woven wrap world with my third daughter. I enjoy all sorts of carriers these days and have more than I need, but I do so love them and being able to keep my girls close to me, especially in new situations. Babywearing leaves my hands free to hold other little hands. When my second daughter was about 9 months old, me and two others took over CNJ Babywearing when the previous leader retired. I knew little but I loved wearing my babies, and didn't want the group to die out. After several years of thinking about, we final jumped into BWI and hope to continue to grow our group by spreading the baby wearing love.
Megan Mikita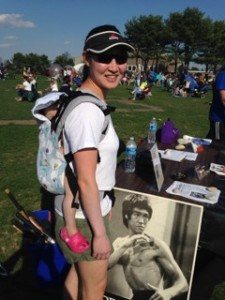 Sandy Lee
I'm Sandy and mom to two little girls. I'm a teacher turned stay-at-home mom and loving the time I get to spend with my daughters. My girls have been worn since they were born, at first by their grandmother who was the best person for me to learn babywearing from! Wearing my kids has let me enjoy motherhood to the fullest and has also helped me run our family business – a martial arts school. Both girls have kicked quite a few heavy bags while being worn by their parents! I'm thankful that I get to spread the babywearing love with other parents who might also benefit from bonding with and snuggling their children.
Kate Sabella
I attended my first babywearing meeting when my son was 4 months old and I was instantly hooked! Babywearing saved my sanity as a new mom. I started out with a ring sling and an Ergo and while I've broadened my personal collection a lot, I still hold a soft spot for the carriers I learned to wear with. When I started wearing, I was continually amazed that I could keep the little guy happy and get things done. It also helped me feel more like myself in the early days of motherhood – it was so refreshing to be able to cook dinner or go grocery shopping without jumping through hoops to keep the baby from fussing (or lugging a giant car seat and stroller with me). I soon began volunteering with the chapter and became a VBE right after my daughter was born.  I love being able to introduce other families to the world of babywearing and help figure out what works best for them!